GroVia Bamboo Prefolds have quickly become one of our top selling products. Why? They are absorbent, silky soft, and a very inexpensive way to add to your cloth diaper stash!
We are often asked about sizing. Why don't you put a weight range on your prefolds?
The answer is this: Weight ranges for prefolds just don't work. They vary too greatly depending on how the prefold is being used, trifolded or fastened. Most people simply trifold their GroVia prefolds in their GroVia Shells, so I've crafted today's post to focus solely on this.
When buying for a newborn you are going to want to choose between the Size 1 and Size 2 Prefolds. I actually find that having some of both is really fantastic. Yes, your baby may grow out of the Size 1s in a short time, but you can continue to use them as burp clothes or even boosters for adding absorbency to a diaper. They are just great to have around!
Here you can see the GroVia Shell with the Size 1 (green serging). The Shell's rise snaps are snapped down all the way.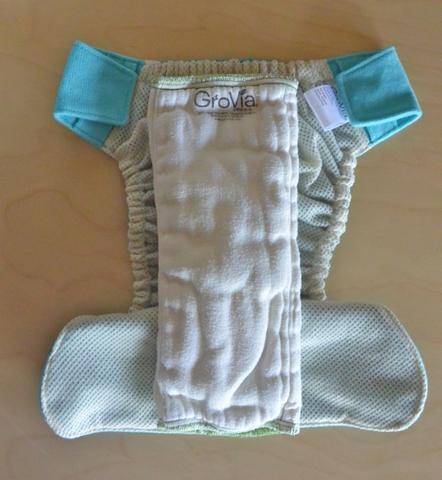 Here is that same GroVia Shell (with the rise snapped down to the smallest setting), with the Size 2 Prefold (aqua serging). Note how it is slightly longer than the Shell. Don't worry the front panel of the Shell will completely cover it when pulled up to be fastened.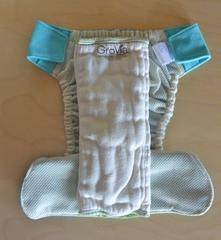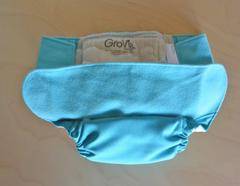 The Size 2 Prefold also fits very well on the middle rise setting of your GroVia Shell, as shown here.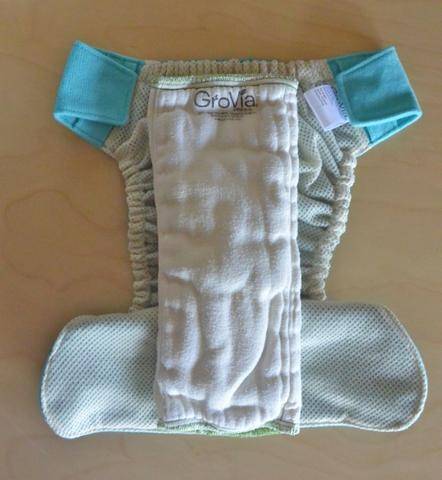 The Size 3 Prefold (orange serging) fits perfectly in the Shell with the rise snaps completely unsnapped. You will again notice it is a bit longer than the Shell, but once the Shell is pulled up and fastened it covers the prefold in the front as shown here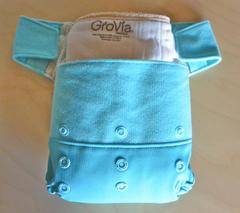 Here you can see the three sizes of GroVia Bamboo Prefolds as they fit in GroVia Shells. Size 1 (rise snapped down to the smallest setting), Size 2 (rise on the middle setting), and Size 3 (rise completely unsnapped)!!