Where do proceeds of sales for Smokey products go?
Sales of officially licensed Smokey Bear merchandise helps further the US Forest Service's national campaign to prevent wildfires and supports the organization's commitment to educate and empower the public to prevent unwanted wildfires.
These prints are part of a licensing agreement from the United States Forest Service, and we are thrilled to be able to share the message of fire prevention through the iconic imagery of Smokey.
Does GroVia donate directly to those affected by Wildfires?
It goes without saying that the timing of the fruition of these long-ago planned prints is weighted heavily with the devastation of the wildfires ravaging the West Coast. Our hearts ache for the families in the path of these fires, and the safety of those families and the first responders seeking to contain the fires is always on our minds.

We always seek to be transparent with you all. While these prints are just now being shared with you, they have been in development for more than a year. We could not have predicted that the completion of the design would align with such tragic and topical relevance to the very message that the prints serve to address.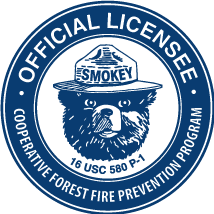 We have replied to comments asking if the sale of these prints will be used to fundraise money to donate to those affected by the West Coast wildfires. We completely understand drawing that connection, and we love that your hearts immediately go into helper-mode. Our licensing agreement with the USFS prohibits the use of Smokey's image for fundraising purposes. While we have made philanthropic product sales in the past, this cannot be the case with a licensure like this. Our team members have made individual contributions to charitable organizations to support those affected by the wildfires. We would be happy to share resources for how to be a helper, too. But these licensed, collaborative prints cannot be used this way.
We hope that our transparency about the production time line and the constraints of licensing are able to address any concerns over our intention with the release of these prints. Smokey's message of wildfire prevention is very important to us, and we hope that these prints can help amplify that message further.

With love,
Your GroVia team