---
Overview of the Hybrid Diaper System
An overview of the Hybrid Cloth Diaper system showing a variety of interchangeable absorbency choices.
Flexibility of the Hybrid Diaper System
The most innovative and flexible waterproof cloth diaper system that works perfectly for travel, daycare, or at home.
---
---
Using Soaker Pads in Hybrid Shells
What's a GroVia Soaker Pad? A reusable, washable, absorbent Soaker Pad that snaps into your Hybrid Shell to do the dirty work!
---
Using BioSoakers in Hybrid Shells
Made with biodegradable and compostable materials, this eco-friendly disposable option is the perfect combo with your GroVia Shell.
---
Using Prefolds in Hybrid Shells
GroVia Bamboo Prefolds are an extremely economical, easy to launder, and super soft absorbency option in your GroVia Shells.
---
Every cloth diaper stash should have Boosters. They are a simple and efficient way to add absorbency to your current diaper stash.
---
Using Double Prefolds with Snappi
Shows how to double up your prefold for added absorbency and a great fit, as well as show how to fasten a prefold with a Snappi.
A fantastic prefold diaper tutorial featuring Trifold, Newspaper Fold, and Jellyroll Fold, all with a GroVia Shell as the cover.
---
---
Tips an tricks for combatting wing droop on your GroVia Diapers and getting an awesome fit!
Using Both O.N.E. Soakers
Shows you everything you need know to make O.N.E your favorite and most effective nighttime diapering option.
---
---
Overview of One Size All In One
Our award winning one-size GroVia design features 100% certified organic cotton inside with silky soft TPU waterproof outer. Fits most babies 10-35+lbs.
Our Newborn AIO is designed to specifically meet the needs of newborn babies. A trim fit, soft materials, and easy use make these our top-selling diapers for the tiniest bundles!
Using the AIO as a Trainer
Did you know your GroVia Organic AIO can be used as a pull-up diaper or trainer? This video shows you how to easily use your AIO as a pull-up diaper or trainer.
---
Helpful pointers on getting an awesome, trim fit every time!
---
---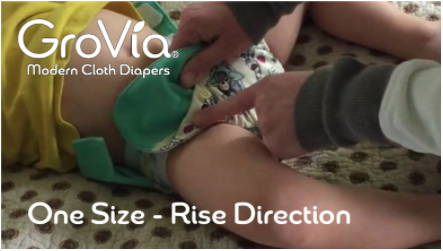 Using Your Rise Direction
Learn why the direction of the rise setting on your GroVia One Size Cloth Diapers really does matter!
---
Unders are your little one's sleeping, lounging, "I don't want to get dressed today!", stay at home outfits, and comfy all-the-time undies...all rolled into one!
---
Using Your GroVia Gives Diapers
A quick tutorial and tips & tricks on using your GroVia Gives Diapers.