Traveling With Cloth Diapers
With a new baby, leaving the house is hard enough. Now you are planning for your first family "vacation". It may seem daunting, considering all the stuff you may need: car seat, baby stroller, bottles, ear protection, collapsible crib … and don't forget the diapers! For many parents who use cloth at home, as soon as we load up the car, we reach for disposables. Why do we do that? Is traveling with cloth that hard? The answer is no, it is not hard at all. Take it from a recent traveling-with-cloth convert!
---
Why travel with cloth diapers?
For all the same reasons you do it a home: better for the environment, your baby's skin, more economical, etc. Buying diapers in resort towns is expensive and the selection is terrible… and who wants to leave the beach to find a box store? We found that cloth can sometimes be more convenient than disposable. Running low and can't do laundry? Just wash a few diapers in the sink. It is better than paying top dollar for off-brand disposables at a gas station when you run out on a Sunday…trust me! Perhaps most important, using the familiar ritual of cloth diapering on the road may contribute to a sense of "home away from home" that will help your baby adjust to a new environment. Interested in taking cloth on the road? Here are some considerations:
---
What type of cloth diapers?
Above all—keep it simple. Bring diapers and diapering products that you use at home, are easy to use and are familiar to you and your baby. My favorite cloth travel diapering system is GroVia Hybrid Shell s with Prefold liners and Stay Dry Soaker Pads. Use the simple prefold liners during the day as they are easy to wash, quick-drying, and don't require much room in the suitcase. Perhaps the best feature of the GroVia Hybrid system for the tot traveler is they are designed to work with disposable absorbency pads, or BioSoakers. No need to carry a full wetbag through multiple plane changes…you will already have plenty to carry!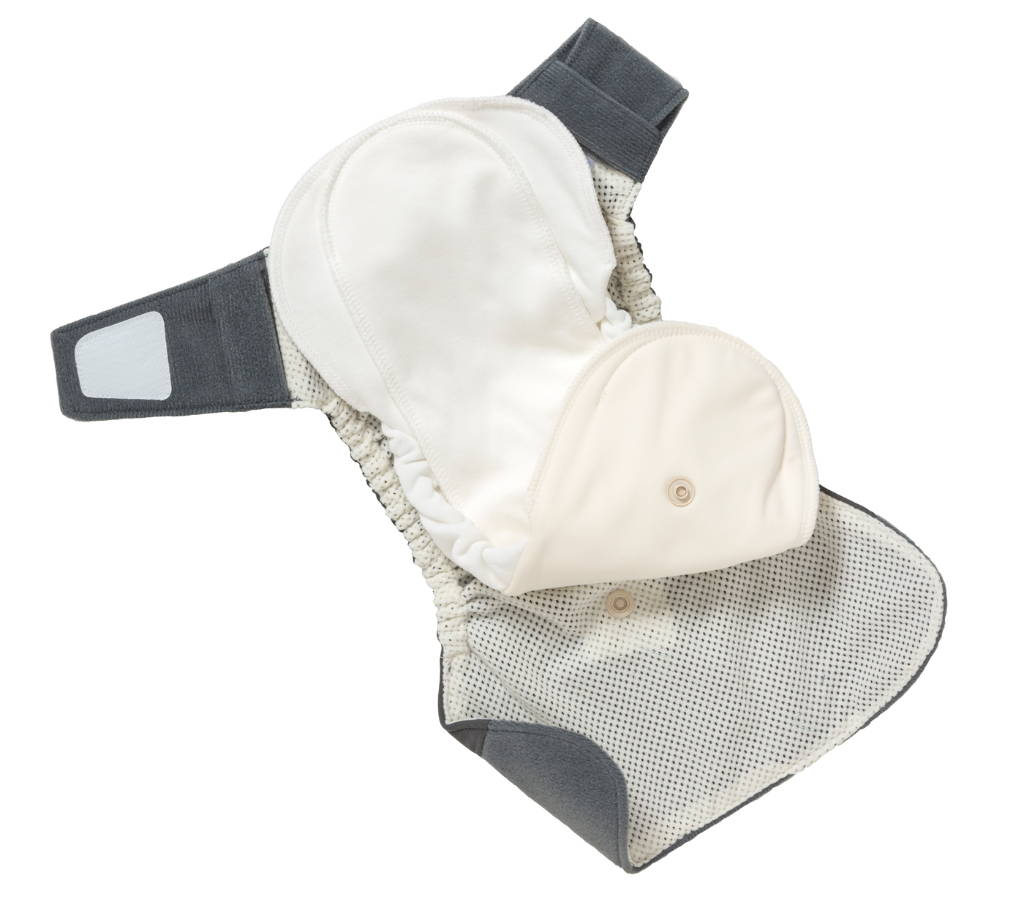 How many diapers to bring.
This depends on a lot of factors: luggage space, access to laundry facilities, number of days on vacation, remoteness and so on. Many blogs suggest you bring a few more diapers than you think you may need, which is sound advice. Personally, I prefer traveling with a minimal (2-3 day) stash. Assuming you have a place to hang-dry, washing a few diapers in the sink every night is sometimes easier than laundering full diaper loads a few times a week. Other items to pack include wipes (infinitely useful during travel), a wetbag, detergent (samples are handy), diaper balm, and one of my favorite items for reducing dirty work on the go--flushable Bioliners. If you are staying in one place, you may consider having some items shipped directly to your door through your favorite retailer. See a list of GroVia retailers here.
---
When booking your accommodations, try to stay places with laundry facilities onsite. Renting condos or houses can be a great option. Don't be afraid to ask to use the laundry facilities—we often do and no one has turned us down yet. Be courteous and pre-rinse poopy diapers before borrowing a machine though…don't give cloth diapering parents a bum rap!
Cloth diapering at home and abroad is easy and worthwhile. Give it a try, and let us know how it goes. What other advantages do you experience when using cloth during travel?